Very High Resolution Lenses with Low Distortion
Product Announcement from Universe Kogaku (America) Inc.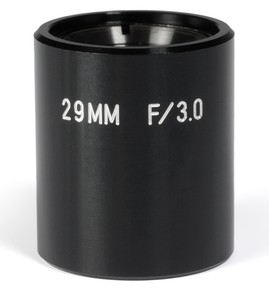 The TOP-29 lens is a very High Resolution 29MM F/3.0 lens with minimal distortion, and a flat field.
These lenses are used for measurement applications, machine vision and other high performance applications. Custom packaging, integrated filters and custom aperture ratios are readily available.
Click to view the outline drawing and detailed specs on the TOP-29 lens.
This high-res lens is compatible with our SC-CM19 focusing C-Mount adaptor.
High resolution lenses are available from stock, in the US in a wide range of focal lengths in a 19 mm barrel from Universe Kogaku America. For pricing or other information, please call 516-624-2444 (in USA) or email info@ukaoptics.com.
---