Hyperion Laser Illumination Systems
Featured Product from Ushio America, Inc.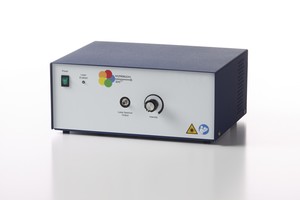 The Hyperion laser illuminator system excels in demanding applications where high-intensity light is required in the smallest of places. Designed with minimally invasive medical applications in mind, this product delivers cool, high-lux illumination that can be efficiently coupled into light channels that range from microns to millimeters. The power and versatility of this illuminator allow it to be coupled with fibers of the smallest size, enabling the use of much smaller endoscopes and video scopes. When combined with our Awaiba video processor, the possibilities for adding visualization to both new and existing devices are endless.
Many Hyperion options available to suit your application
Production ready models:
– Hyperion 200LV – Laser illuminator with Awaiba NanEye video processor
– Hyperion 200L – Laser illuminator
– Hyperion 200V – Awaiba NanEye video processor
– Hyperion 200L-02 – Dual output laser illuminator
– Hyperion 100L – Laser illuminator module
Models currently in development:
– Hyperion 400L – High power laser illuminator
– Hyperion 150L – High power laser illuminator module
– Hyperion 100L-02 – Dual output laser illuminator module
A high-intensity source can deliver up to 20 times the light of ordinary sources in channels ranging from tens of microns to a millimeter in diameter
The narrow bandwidth of laser sources can produce sharper images and better contrast, and facilitate identification of key features such as malignant cells
RGB illumination allows for custom light color options
Communication via packet-based protocol or serial commands
Field upgradable
Additional wavelengths including UV and IR available
Customization available
User accessible video processing options available
OEM and private label products welcomed
Manufactured in an FDA Registered Facility
APPLICATIONS
Flexible and rigid video scopes, such as:
– Urethroscopes
– Bronchoscopes
– Esophagoscopes
– Cystoscopes
– Laryngoscopes
Minimally invasive surgical platforms
Minimally invasive surgical robotics
Medical and surgical instrumentation
Chandeliers for ophthalmic surgery
Light guides for cardiothoracic platforms
Industrial inspection
Other medical and industrial endoscopic applications