Midori UDC3 PORTABLE LED LIGHT SOURCE
Featured Product from Ushio America, Inc.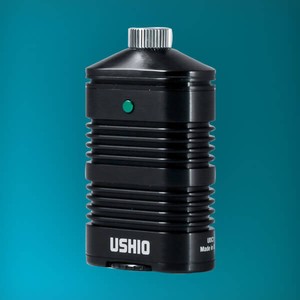 The Midori™ portable LED light source series combines state-of-the-art, solid-state illumination technology with Ushio's distinctive optical design to create a compact and lightweight battery operated light source with very high output efficacy that is ideal for hand-held industrial applications. This mercury-free, long-life UDC3 portable LED light source has instant on/off switch and extended electronic intensity dimming capabilities. Midori's spectral output below 430nm (deep blue and UV) and above 700nm (near IR) is minimal, which makes it ideal for sensitive applications. The Midori UDC3 portable light source is equipped with an ACMI/Wolf threaded collar to directly connect to Storz universal style rigid and flexible type scopes.
The UDC3 is powered by two Li-Ion rechargeable RCR123A batteries and will last for 60 minutes at full intensity operation. Moreover, the output intensity level is preserved after turn-off for improved user control. Consider Ushio America's eco-friendly Midori UDC3 LED light source for your next specialty lighting project. The portable LED light source can be configured to OEM custom specifications or private labeling consideration.
PRODUCT FEATURES & BENEFITS
Ultra Compact - Small Footprint and Ergonomic
Energy Efficient - Increased Light Intensity Coupled Into Small Fibers at Lower Wattage Operation
Electronic Dimming - High Dynamic Range for Intensity Control
Lightweight - 4.5oz for Exceptional Portability
Battery Operated - Requires Two Rechargeable Li-Ion RCR123A
Long Life - Less Maintenance and No Lamp Replacement Costs
Low Noise - Both Electrical EMI and Audible Sound - No Fan
Made in USA
PRODUCT APPLICATIONS
Industrial NDT Inspection
Borescopy
Microscopy
Remote Visual Inspection
Fiberscopes
Flexible Videoscopes
Industrial Fiber-Optics