Midori™ ULB-35 UV/FPI LED Light Sources
Featured Product from Ushio America, Inc.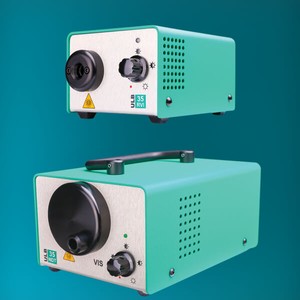 This Made in USA energy efficient LED fiber-optic illuminator series combines state-of-the-art, solid-state illumination technology with Ushio's distinctive optical design to create a compact and lightweight fiber-optic lightbox with very high output efficacy that is ideal for industrial applications where space is a premium. This mercury-free, long-life ULB-35 LED light source has instant-on and extended electronic intensity dimming capabilities. The ULB-35 series light sources conveniently accepts a 12VDC input voltage for portable battery operation.
The ULB-35rvi is a single UV output unit that is equipped with an ACMI fiber receptacle, as well as separate Storz and Olympus screw-in adaptors are available to accommodate most common fiber cable types. The ULB-35ndt is a dual channel unit with both UV and VIS output capability to meet the most demanding applications by rotating the Olympus style adapter to the preferred output. Consider Ushio America's eco-friendly Midori ULB-35 fiber-optic LED light source for your next specialty lighting project. The lightbox can also be configured to OEM custom specifications for private labeling.


Ultra Compact – Small Footprint Takes Very Little Space
Energy Efficient – Increased Light Intensity Coupled Into Small Fibers at Lower Wattage Operation
Electronic Dimming – High Dynamic Range for Intensity Control
Lightweight – Less Than 1lb (0.45kg) for Exceptional Portability
External Power Supply – Utility for Both AC and DC Operation
Long Life – Less Maintenance and No Lamp Replacement Costs
Low Noise – Both Electrical EMI and Audible Sound
UV Output/Low VIS – Enhanced FPI Contrast Images
APPLICATIONS
Industrial NDT Inspection
Remote Visual Inspection
Borescopy
Fiberscopes
Flexible Videoscopes
Industrial Fiber Optics
UV Fluorescent Penetrant Inspection