USHIO 222nm Excimer Lamp for Microbial Reduction
Featured Product from Ushio America, Inc.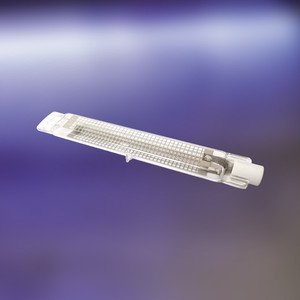 Ushio is proud to introduce the Care222™ series, our new line of 222nm Far UV-C excimer lamps for microbial reduction.
Care222 is presently used for unoccupied spaces with ongoing studies to make Care222 the future solution for all occupied and unoccupied microbial reduction solutions. Features of the Care222 lamp allow customers to obtain 100% light output in less than a second, whereas the conventional germicidal lamp starts at only 50% output and takes several minutes to achieve 100% output.
Available in 20W and 300W, these mercury-free and instant-start excimer lamps are ideal for bathrooms, toilets, countertops, and other occasional use applications.
Ushio can also custom design a solution for you from 5W to 300W and lengths ranging from 40mm to 500mm. We can design a lamp that fits your needs so contact us today!
FEATURES AND BENEFITS:
Mercury Free
Large Production Capacity Providing Lamps with Consistent
Flexible Design Capabilities for Custom Lamp Development
Effective Germicidal Wavelength
Effective Eradication of Most Spores
Wide Operating Temperature
Instantaneous On/Off
APPLICATIONS