New Leak Calculator App from Uson
Product Announcement from Uson, L.P.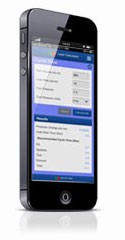 Uson's new Leak Calculator App is a multi-platform smart device app for your phone or tablet! Our easy to use trusted adviser series cycle time estimator has now been configured for the Apple iOS and the Android. It also includes conversions for pressure and flow units of measure, covering 10 different pressure units and 6 measurements of flow. Best of all, it is FREE!
Need to estimate production rate for your leak tested parts based on known testing specifications? Then this application is for you… Great resource for leak detection engineers, technicians, systems integrators and production people.
Benefits & Features
Solve for Total Cycle Time
Solve Part Volume
Solve Leak Rate
Solve for Expected Pressure Change
Solve for Test Time
Solve for Leak Rate
Common Pressure Unit Converter
Common Flow Unit Converter
Pressure Decay Cycle Time
Calculation for Part Volume Size
Selectable Engineering Units
The next best thing to having a leak test expert in your pocket.
Visit Uson's Leak Calculator App page for information about downloading the app.
---