Avionics & Military DC-DC Converters
Featured Product from VPT, Inc.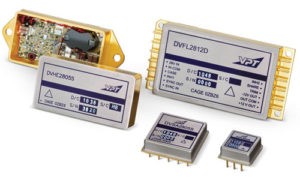 Ideal for applications such as commercial and military aircraft, weapons systems, and more, this line of DC-DC power converters is ready to fly when you are.
Save board space, weight, heat, and cost when you create an efficient power system using our isolated DC-DC converters plus our family of non-isolated, synchronous, buck regulated point of load DC-DC converters. With high efficiencies, wide temperature ranges, and DLA SMDs for most models, find the right power supply for your program's military specs with VPT's wide range of offerings.
1-120+ watts
MIL-PRF-38534 Class H
-55 °C to +125 °C military temperature range, no power derating necessary
100% hermetic
High efficiencies
Thick-film hybrid technology for small size, light weight, and maximum reliability
MIL-STD-461, MIL-STD-704A, DO-160, MIL-STD-883, ISO-9001
DLA SMDs available for most modules
Products are available off-the-shelf and ready for fast delivery