Industrial Vacuum Cleaner Combustible Dusts
Product Announcement from VAC-U-MAX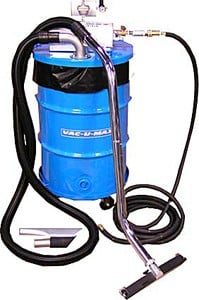 VAC-U-MAX's Industrial Vacuum Cleaners for explosion hazard areas meets OSHA's Combustible Dust Standards and are intrinsically safe.
VAC-U-MAX Air Operated Vacuums, Model 40012 and 40013, are the first-line offerings for Class II, Division 2 explosion hazard environments due to their grounded and bonded design and their reasonable cost and availability. These vacuums meet the NFPA 77 requirements for grounding and bonding. These vacuums also meet the definition of an "intrinsically-safe system".
VAC-U-MAX Air Operated Vacuums do not use electricity and do not generate any heat from operation. The VAC-U-MAX 40008, 40012, and 40013 air vacs are a "system" and they include the vacuum cover, drum, dolly, vacuum hose and cleaning tools, compressed air hose with quick-disconnect fittings, and polybag drum liners. There are no components that are supplied by the customer and we are therefore able to offer a suitable-for-service certification in a Class II, Division 2 environment.
The specific static control components of this family of vacuums are:
* Metal vacuum cleaning tools and static-dissipative vacuum hose.
* Stainless steel anti-sparking inlet.
* Static-conductive dust filter.
* Ground strap across gasket between air vac cover and drum.
* Drum dolly with static-conductive casters.
* Ground wire connection between air vac cover and drum dolly.
* Static-conductive compressed air hose with metal quick-disconnect fittings.
* Static-conductive polybags liners for collection of combustible dusts inside the drum.
If the compressed air piping network in the facility is grounded (as it should be), then the VAC-U-MAX vacuum will be grounded automatically, eliminating operator error due to failure to connect separate ground wires.
VAC-U-MAX is a premier manufacturer of Industrial Vacuum Cleaners for manufacturing and municipal facilities, government installations and environmental sites. VAC-U-MAX heavy-duty industrial vacuums improve your facility's cleanliness, improve working conditions and safety for your employees, reduce down-time of valuable production equipment, enhance your quality control efforts and recycle material previously considered as waste.
Wet and dry applications include housekeeping of dust on floors, walls, and machine surfaces, bulk powder spill recovery, liquid spill cleanup, sump cleaning and tank emptying, and process clean-out. Custom-engineered vacuum cleaning systems are also available.
---