Industrial Vacuum Cleaner: Continuous Duty
Product Announcement from VAC-U-MAX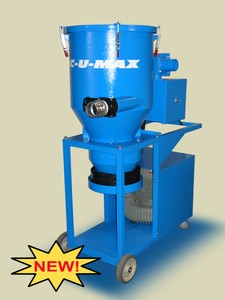 · 8.5HP (6.4kw) vacuum producer with TEFC 3-ph, 230V/460V continuous-duty motor
· Motor starter mounted in NEMA 4 enclosure mounted on vacuum. Standard voltage is 220/460V.
· Airflow: 360 ACFM
· Primary separation: tangential inlet with internal deflector for inertial separation of larger incoming particles.
· Primary filtration: High-efficiency, quick-release filter media, consisting of two cartridge elements that are removable without tools for easy maintenance. Filter efficiency is 99.9% at 1micron particle size.
· Final filtration: Pleated cartridge filter (Optional DOP-certified HEPA filter rated 99.97% efficient @ 0.3 micron particle size is available). Filter is removable without tools for easy maintenance.
· Counterweighted dump valve assembly. Automatically discharges material when vacuum is vented for filter cleaning or shut down.
· Discharge outlet has 16" under-clearance to remove collection bag
· Heavy-duty pan deck to support filled collection bags.
· Unique vacuum vent valve with manual actuator handle. Simultaneously vents the vacuum producer to atmosphere and provides 100% blowback air for maximum filter cleaning effectiveness.
· Tangential Inlet with 3" camlock adaptor and 3" manual slide gate valve.
· Vacuum relief valve to prevent vacuum producer from overheating under heavy loads.
· Heavy-duty square tubular steel frame with two (2) heavy duty front wheels and two (2) rear swivel casters, one includes a total lock.
· Blower is enclosed in protective removable shroud.
· Box of 4 continuous discharge bags (210') to accompany unit as spares, 1 Bag (70' long) already installed. Total 5 Bags.
· Blue Powder coat finish
---