Custom Vacuum Technology and EOAT Design Service
Product Announcement from Vaccon Company, Inc.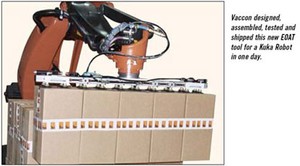 Vaccon's new, modular End-of-Arm Tooling components offer everything you need to create a complete "wrist-down" EOAT for your material handling operations. The VEOAT innovative component design is modular, lightweight, compact, and easy-to-connect. Using VEOAT, you can integrate vacuum pumps, suction cups, spring levelers, fittings, and manifolds using simple erector-set connectivity in minimum design time.
Ideal Applications:
Automotive
Packaging
Palletizing
Runners from molds
Conveying systems
Fruit Packing
Mold Removal - Picking Parts
Working holding device
Stamping press transfer
Packaged Food & Bakery
Medical
Features/Benefits:
T-Slot fraction or metric compatible components – attaches to our framework or yours
Minimal Design time – pre-designed modular components, streamlined systems
Easy set-up and fast installation – order out of box complete or assemble on site
Lightweight components – faster speeds with less stress on robot for longer life cycle
Cost effective – integrates with existing plant equipment for quick tool changes, minimal down time
Flexible manufacturing/automation – optional accessories and adjustability
Increased efficiency – large selection of venturi pumps to maximize productivity
Built-in sensors – part-present signal and vacuum level
You can order VEOAT products separately and build your own tooling, or purchase a complete pre-built VEOAT solution - fully configured, plumbed, and tested. VEOAT solutions ship assembled using one robot-to-VEOAT connection for easy, out-of-the-box installation.
---