DF Series Material Conveying Pumps
Product Announcement from Vaccon Company, Inc.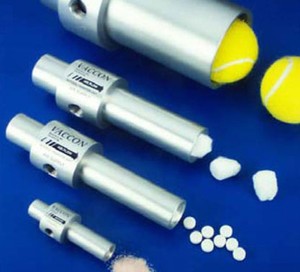 Vaccon Company's DF Series of high flow material conveying vacuum pumps provide a simple, reliable and cost effective method of in-line transfer of bulk materials, complex shapes, individual objects, selvedge.
The DF pump's unique capability to create instantaneous vacuum flow and high air velocity, combined with its straight-through, smooth bore design allows material to pass directly through the pump at high speeds without interference or clogging.

Simply regulate the input pressure to adjust and control the transfer speed. For maximum efficiency, the compact design allows close placement to the work area. DF Series material conveying pumps are made of anodized aluminum and available in 17 standard models with inside diameters from 1/8" [6mm] to 4" [100mm].
Features/Benefits:
Application versatility
Efficient - instant on and off, low operating costs
Fast response - installs close to vacuum point
Easy to install - simply connect tubing to the vacuum and exhaust ports, and supply compressed air/
Safe operation - no electricity needed at the pump
Reliable - trouble-free operation:

Straight-through design, non-clogging
No moving parts to wear or clog
No flap valves to stick open
No maintenance
No downtime
Pump Options:
Internal and external threaded exhaust and/or vacuum ports
G port threads for metric machines - an "I" prefix designates products with metric threads
Teflon™ or hardcoat anodizing
For chemical compatibility, heat and environmental requirements, food and medical applications, custom materials, special coatings and modified threads are available.
Visit Vaccon Company to learn more about our various vaccum pumps or contact us today.
---