Threaded Venturi Vacuum Cartridges for OEM Apps
Product Announcement from Vaccon Company, Inc.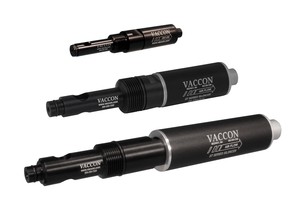 Medway, MA - Vaccon Company, Inc. announces the introduction of its Mid and Max Series Threaded Vacuum Cartridges. Designed to meet the needs of OEMs, Vaccon Mid and Max Series Threaded Vacuum Cartridges save plumbing, reduce leak points, minimize assembly time and make for a compact design. "We developed this line of products to address a frequent request from our OEM customers for a vacuum cartridge solution that would install within very tight space envelope and still deliver a wide range of performance capabilities," says Brian Ferri, President of Vaccon Company, Inc.
Vaccon's unique, no-clog design, combined with the absence of moving parts, allows OEMs adopting Vaccon cartridges to avoid the need for filters or frequent service cycles. Applications for Mid and Max Series Threaded Vacuum Cartridges include medical and laboratory systems, including blood or gas analysis machines, robotics and end-of-arm tooling, and a wide range of other material handling applications.
Extremely efficient, Vaccon's Mid and Max Series Threaded Cartridges are available in 23 models that offer a wide range of performance levels enabling the optimization of pump performance based on desired vacuum level, vacuum flow, evacuation speed and air consumption. If the product changes in size, porosity, or weight, the existing equipment can be re-fitted with a different cartridge.
Available options for the Mid and Max Series Threaded Vacuum Cartridges include a choice of operating pressures to meet customer air supply requirements, and a range of materials for chemical, laboratory, and food handling applications. Contact Vaccon for details.
Vaccon Company Inc., founded in 1972, is the leading U.S. manufacturer of air powered venturi vacuum pumps. Vaccon supplies the manufacturing and process industries with reliable vacuum products characterized by efficient operation, rugged construction, and low costs. Their expanded vacuum pump product line includes Modular Venturi, Dirt Tolerant and Material Conveying Pumps, Silencers, Blowers, Check Valves, Suction Cups, Switches, End-of-Arm Tooling components and more. No matter what the size of the order, Vaccon will modify any standard product or provide a custom design if an off-the-shelf product does not meet your requirements.
For More Information: Vaccon Company, Inc., 9 Industrial Park Road, Medway, MA 02053, Contact: Pat Kellogg, Telephone: (508) 359-7200, Fax: (508) 359-0177, Email: info@vaccon.com, Website: http://www.vaccon.com.
Product Information: http://www.vaccon.com/datasheets/Threaded Cartridges.pdf
High Resolution Image: http://www.vaccon.com/images/Threaded_Cartridges_Family_hr.jpg
High Resolution Image:http://www.vaccon.com/images/C_200M_with_cup_manifold_block_hr.jpg
---