Vaccon Robotic End-of-Arm Tooling
Product Announcement from Vaccon Company, Inc.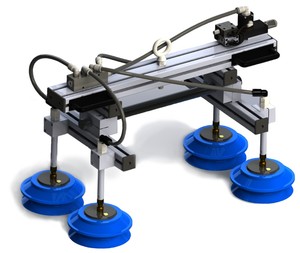 Using vacuum technology, Vaccon designs and manufactures innovative end-of-arm tooling for industrial automation, material transfer, robotic pick and place, packaging and assembly operations.
As vacuum application experts, we provide industrial robotic manufacturers, system integrators and OEM's, with complete, "wrist-down" robotic arm solutions. We offer custom designed, end-of-arm tooling for new robots and modular, off-the-shelf EOAT components to adapt, re-tool or replace existing robotic end-effectors. Our engineers are material handling specialists with proven success in the most challenging manufacturing environments.
From moving dirty, dusty, porous, or uneven objects such as unglazed ceramic tiles; to heavy, non-porous items such as steel, glass, or laminated boards; to objects that wrinkle - IV bags, fabric, papers, and plastic films, Vaccon delivers reliable and efficient end-of-arm tools to meet your performance specifications and production demands. Featuring erector-set connectivity, our extensive line of EOAT products include venturi vacuum pumps, vacuum cups, grippers, vacuum sensors, vacuum switches, spring levelers, gauges, mounting brackets and more.
Improve efficiency and reduce costs with Vaccon's multi-tasking end-of-arm tooling.
---