Big Vacuum in a compact Package
Product Announcement from VACUUBRAND, Inc.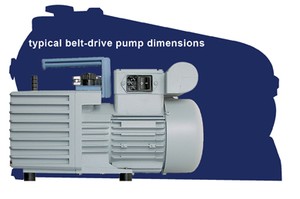 Small footprint rotary vane vacuum pumps
VACUUBRAND® XS-series rotary vane vacuum pumps are extremely compact, with a footprint one-third that of common belt-drive vacuum pump designs, and only half the weight. The result is a pump that occupies much less bench or floor space in crowded labs, yet offers comparable vacuum capacity (2x10-3mbar) to older designs, and higher pumping speeds.
THE VACUUBRAND® XS-series rotary vane vacuum pumps have been designed to tolerate service in chemistry labs, or to serve as quiet, reliable, low-vibration roughing pumps for high-vacuum applications. They are plasma-treated internally to improve chemical resistance. They are ideal for those applications, such as freeze-dryers, molecular distillation and Schlenk lines, that need vacuum performance that is beyond the reach of oil-free pumps. XS-series rotary vane vacuum pumps also run quiet with low-vibration, and have very good water-vapor tolerance. They have very low power consumption and generate less waste heat than competitive models. Pumps available in 1.65cfm, 4.0cfm and 6.0cfm sizes.
For ultra-low service demands, look into the VACUUBRAND Chemistry-HYBRID vacuum pumps, which reduce oil-changes by 90% compared with service intervals typical of rotary vane pumps.
---