Compact Oil-free Vacuum Pump
Product Announcement from VACUUBRAND, Inc.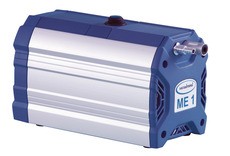 The quiet, oil-free VACUUBRAND® ME 1 and ME 1C pumps provide high performance, easy-to-use vacuum for lab filtration and aspiration applications. The compact, 5"x10" footprint is designed with your crowded lab bench in mind, and the large, top-mounted power switch offers convenient access, even while wearing lab gloves. VACUUBRAND's proven diaphragm pump technology ensures extra-long service intervals (over 10,000 operating hours in normal use), typically providing years of trouble-free operation between diaphragm changes. And service takes less than an hour, using simple tools. Both vacuum pumps rely on PTFE diaphragms and valves to deliver excellent chemical resistance; the ME 1C adds PTFE heads for exceptional chemical resistance even in your most corrosive applications. An optional manual control valve with integrated analog gauge allows you to optimize your filtration or aspiration process with fine adjustment of the pumping speed. The ME 1/ME 1C pumps can support 3 filtration/aspirations at when connected to the VACUUBRAND® VACUU·LAN® Mini-Network. Visit www.vacuu-lan.com for details.
User Benefits
· Whisper-quiet pump with minimal vibration won't disturb you or your work
· Easy and quick operation - top-mounted power switch for easy access
· Compact pump fits easily even on crowded benchtops
· Highly reliable, robust pump design minimizes down time and maximizes your productivity
---