Cordless, electronic vacuum gauge
Product Announcement from VACUUBRAND, Inc.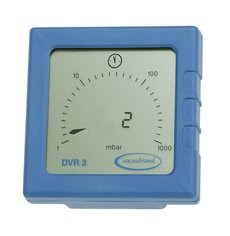 VACUUBRAND's DVR2 electronic vacuum gauge presents pressures in analog and digital formats with user-selectable units. The analog display simplifies monitoring of pressure trends, while the digital display provides an accurate readout. With a range from atmosphere to 1 mbar/torr/hPa, the gauge is suitable for most lab applications and many industrial uses. This portable vacuum gauge is a valuable tool for any lab, enabling quick, simple confirmation of vacuum pump, central vacuum and water aspirator vacuum levels. The DVR2 gauge operates cordlessly with a 9V lithium battery that offers up to 5000 hours of operating life, and includes a timed sleep function to preserve battery life. Battery and a choice of connectors (flange and hose-barb) are included.
---