Dry Vacuum Pumps for Pilot/Process Needs
Product Announcement from VACUUBRAND, Inc.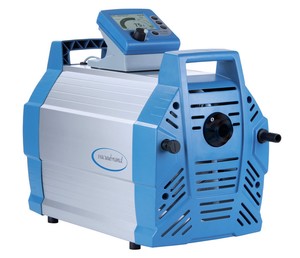 These VACUUBRAND VARIO® pumps and pumping units feature a very high pumping speed and attain an outstanding ultimate vacuum - down to 0.6 mbar (0.45 Torr). They are ideal for high vacuum requirements, e.g., for evaporation of most high boiling solvents even at low temperatures. They provide precise vacuum control by adjusting the diaphragm pump´s motor speed. The controller provides fully automatic evaporations without any need of parameter input. The pump design offers exceptionally high chemical resistance supporting almost universal usage in chemistry and pharmaceutics.
The MV 10C NT VARIO® provides 4-stage vacuum generation, combines high pumping speeds and exceptional vacuum depth with automated VARIO control. The PC 3010 NT VARIO adds condensate and particulate protection for the pump on the inlet, and an efficient condenser and condensate collector on the outlet, permitting excellent vapor recovery to protect the environment from exhausted vapors. For the MV 10C NT VARIO these accessories are optionally available and can be mounted later.
Other large capacity pumping units include the VACUUBRAND MD 12C NT VARIO, a 1.5 mbar (1.1 Torr) pump with higher pumping speeds; and the ME 16C NT models, providing pumping speeds greater than 11 cfm at ultimate vacuum of 70 mbar (50 Torr).
Performance features
automatic optimization of the vacuum level throughout the process for high process reproducibility and unattended operation
short process times due to zero-fluctuation (hysteresis-free) vacuum control, even for large amounts of vapor
easily operated CVC 3000 vacuum controller with clear text menus and integrated venting valve
extraordinary diaphragm life for minimum operational and servicing costs; recommended service intervals of 10,000 - 15,000 hours in normal service
exceptional corrosion resistance provided by the full fluoropolymer flowpath
PC 3010 NT VARIO: excellent environmental friendliness due to efficient solvent recovery
---