Hybrid Vacuum Pump Reduces Oil Changes By 90%
Product Announcement from VACUUBRAND, Inc.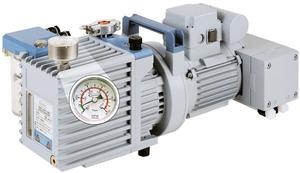 The VACUUBRAND® RC6 Chemistry-HYBRID vacuum pump dramatically reduces service interruptions and life-time service costs compared with rotary vane pumps, offering the vacuum performance of a two-stage rotary-vane pump with greatly improved resistance to corrosive and condensing vapors.
A single motor and drive shaft operates a rotary vane pump and a corrosion-resistant oil-free vacuum pump. The rotary vane pump delivers an ultimate vacuum of 2x10-3mbar, while the diaphragm pump keeps the oil-reservoir in the rotary vane pump under vacuum, reducing condensation in pump oil and continuously distilling solvents from the oil. An oil-mist filter between the rotary-vane and dry stages protects the performance of the diaphragm pump.
When used in circumstances in which condensing and corrosive vapors are present routinely or in large quantities, the RC6 Chemistry-HYBRID pump can extend service intervals by as much as a factor of ten; weekly oil changes may be scheduled annually. Lifetime maintenance costs result not only from the labor savings, but also from the substantially reduced volumes of waste oil needing disposal. The RC6 Chemistry-HYBRID pump can even be equipped with a water cooled exhaust condenser that permits the collection and recycling or disposal of exhaust solvent vapors for even "greener" operation.
Typical applications of the RC6 Chemistry-HYBRID pump are freeze drying and distillation, but any application that requires 10-3mbar vacuum and involve flows of condensing or corrosive vapors—such as Schlenk lines—will benefit from the low-maintenance convenience of the RC6 Chemistry-HYBRID pump.
---