Multi-tasking Lab Vacuum Pumps
Product Announcement from VACUUBRAND, Inc.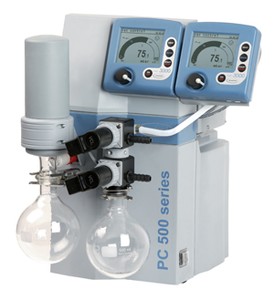 VACUUBRAND® Synchro vacuum pumps can support two applications at once, down to 1.1Torr/1.5mbar. These space-saving pumps are oil-free, chemical-resistant and whisper-quiet.
Choose the dual-electronic controllers of our PC520 NT (5Torr/7mbar) and PC620 NT (1.1Torr/1.5mbar) systems for operating two evaporations at once with full process programming of up to 10 programs of 10 steps for each application. Or choose the PC511 NT (5Torr/7mbar) or PC611 NT (1.1Torr/1.5mbar) to control one vacuum application electronically, while having access to a second manual port for applications like filtration that don't require advanced vacuum control. If you just need to save bench space, select the MZ2C NT Synchro (5Torr/7mbar) or MD4C NT Synchro model (1.1Torr/1.5mbar), which offer dual manual flow control application.
All systems include an inlet catchpot that protects pump performance from line condensates, and an outlet condenser to capture nearly 100% of exhaust vapors when cooled with tap water. The pumps feature a fluoropolymer flow-path and long-wearing planar diaphragms that provide 10,000-15,000 hours of use between service stops in typical use. At 40 hours use per week, that's five years before first service!
Need to operate more than two applications? Contact VACUUBRAND about VACUU•LAN® local vacuum networks. One oil-free, low-maintenance vacuum pump can support up to 8 independent vacuum applications at once, with 1.5Torr/2mbar vacuum at each port, while minimizing interference and capturing exhaust vapors. It a high-performance, economical choice for lab renovations and new construction!
---