Schlenk Line Vacuum Gauge
Product Announcement from VACUUBRAND, Inc.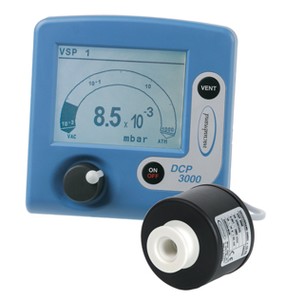 The VACUUBRAND® DCP 3000 vacuum gauge is ideal for monitoring vacuum conditions on Schlenk lines and short-path distillation applications. When these applications operate without vacuum monitoring devices, leaking connections, degrading pump performance or out-gassing from vacuum tubing can significantly degrade the actual vacuum delivered to the applications, interfering with efficient evaporation of solvents.
When used with the innovative VSP 3000 gauge head, the vacuum monitoring system is resistant to chemical attack, as well as pressure and mechanical shocks, and monitors vacuum conditions down to 10-3mbar/Torr. The VSP 3000 gauge head achieves its unique performance characteristics by incorporating advanced plastics and ceramics into the sensor. This makes it ideal for the corrosive conditions found in Schlenk lines, freeze dryers, short-path distillations and other rotary vane pump applications.
The DCP 3000 gauge will accept signals from up to four VSP 3000 gauge heads, and an additional four capacitance gauge heads (the VACUUBRAND VSK 3000 sensor). The gauge automatically recognizes gauges when added, and the tap-and-turn control knob steps between sensors for output to the back lit LCD with a combined analog and digital display. RS232C connection to a computer provides data-logging capacity of up to 32,000 data points.
---