Self-Regulating Chemistry Vacuum Pumps
Product Announcement from VACUUBRAND, Inc.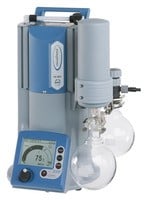 PC3001 VARIO / PC3002 VARIO / PC3003 VARIO / PC3004 VARIO and PC3010 VARIO / PC3012 VARIO
VACUUBRAND® VARIO™ chemistry pumping units control the vacuum level with pinpoint precision by adjusting the diaphragm pump's motor speed continuously. These pumps detect vapor conditions and instantaneously adjust vacuum levels to optimize the process. Process times are shortened by the high evaporation rate, while samples are protected from "bumping" and foaming caused by over-pumping. Through constant evaporation, an optimal solvent recovery rate can be achieved. The demand-responsive motor-speed control reduces the workload of the vacuum pump significantly, leading to very long service intervals, low power consumption and low lifetime operating costs.
Applications
For evaporation, distillation, drying and all other lab processes that benefit from precise vacuum control, continuously adjustable pumping speed or demand-oriented vacuum supply.
For applications where evaporation of complex mixtures or critical samples would otherwise require near-continuous human oversight, or where tedious trial-and-error runs may be needed to develop process parameters for programming. VARIO™ vacuum pumping systems automatically optimize process conditions without programming, reducing process times and protecting samples. Controller offers ten freely configurable programs, which can be edited and stored easily, if preferred.
For labs where scientists perfer to use automation to improve productivity, accelerate project completion, improve process reproducibility, and free time from tedious oversight functions in favor of creative work.
Advantages
Performance
Fully automatic boiling point detection and vacuum adjustment, even with solvent mixtures
No trial runs or parameter programming needed
Intuitive "turn & tap" jogwheel control with the CVC 3000 vacuum controller
All wetted parts made of fluoroplastics for chemical resistance
Compact, quiet and reliable
Excellent pumping speeds and ultimate vacuums, even with continuous self-cleaning purge. This enables the easy evaporation of even high-boiling solvents
Bi-directional interface (RS232C) for process control, monitoring or documentation
Convenience & Economy
Process times typically reduced by more than 30% vs. conventional electronic vacuum control
Integral capture of nearly 100% of vapors for solvent recovery
Unrivalled lifetime of diaphragms and valves
Demand-responsive pumping reduces energy consumption
Cold-traps not needed to protect pumps
VARIO™ pumping units always consist of a variable speed chemistry diaphragm pump with inlet separator (to protect pump and particulates and line condensates) and exhaust vapor condenser, as well as the vacuum controller CVC 3000 with integrated alumina-ceramic pressure gauge. Models with vacuum to 0.45Torr and pumping speeds to 166lpm.
---