Calibration & Repair Services | Fast & Worry-Free
Service Detail from Vaisala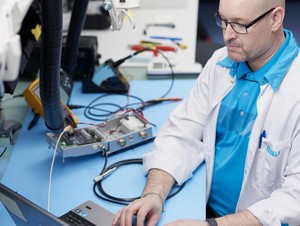 As a manufacturer, Vaisala offers high quality calibration and repair services with the strictest quality standards. Our modern Service Centers and optimized delivery processes enable fast calibration turnaround times: Most of our accredited calibrations are delivered within 5 - 7 business days, and requests may be submitted 24/7 from our Online store.
We've made the entire process easy. Simply return your instrument to us for calibration and enjoy a stress-free service. Get started today on our Online Store.
Want to learn more first? Simply watch our quick video: Calibration Services by Vaisala Help Keep Your Vaisala Instruments as Accurate as New
Regular calibration of all measurement instruments is essential to ensure the best accuracy. Vaisala offers several calibration options for different customer needs. Simply select what's right for your purpose and let our calibration experts take care of the rest. For data loggers, we also offer on-site calibration and probe replacement services. (On-site services may be affected by the coronavirus situation. For more information, please contact us.)
When your ready, getting started is easy through our Online Store.
__________________________________________________________________________
Our Calibration Care Agreement includes planned calibrations for multiple years. It is the most economical and convenient way to maintain the accuracy of your Vaisala measurement instrument year after year.
As a Care customer, you will enjoy multiple benefitsn - from lower calibration costs to faster turnaround times:
Planned Calibrations for multiple years
Transparent pricing without price changes
Free shipping to-and-from Vaisala
Priority order handling at the Service Center
Easy return process from Online portal
Learn more about our Calibration Care Agreement on our Calibration Care Agreement webpage.