AP10 Wireless Networking Hardware Device
Featured Product from Vaisala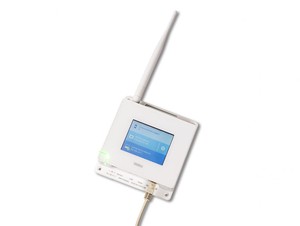 AP10: VaiNet Wireless Access Point
The VaiNet Access Point AP10 is a wireless networking hardware device for Vaisala's proprietary LoRa® based wireless technology: VaiNet. The AP10 can connect up to 32 VaiNet wireless data loggers (RFL100 Temperate & Humidity or RFL100 Temperature only) to Vaisala's viewLinc Enterprise Server software, version 5.X and later.
Features
One AP10 supports up to 32 VaiNet data loggers
Runs on Power over Ethernet or DC adaptor
Minimal infrastructure and no signal amplifiers needed
Uses HTTPS communication and encryption to ensure secure data transmission
Chirp Spread Spectrum wireless modulation is resistant to multipath fading
Secure firewall and data integrity
Key Benefits
Longer range in complex environments
VaiNet communicates outside of more heavily trafficked 2.4 GHz bands, making the signal less vulnerable to interference. Additionally, VaiNet's low frequency signal means much longer range and better penetration in complex, obstructed environments like warehouses; at least 100 meters.
Reliable connectivity
Once accepted in viewLinc, VaiNet data loggers stay synchronized, even in situations where other nearby VaiNet networks overlap. Redundancy is achieved through load distribution between VaiNet access points, which share multiple loggers in range.
Data integrity ensured
VaiNet AP10 access points transfer data from the data loggers to viewLinc Enterprise Server. Both the access point and the software verify that the data is received correctly. Once the data is verified, it is stored to viewLinc's secure database and protected from tampering and loss.