DL4000 Universal Data Loggers
Featured Product from Vaisala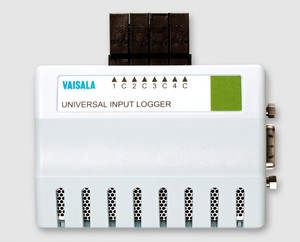 DL4000 data loggers are a simple solution for recording and monitoring pressure, flow, fluid level, pH, electrical properties, moisture and gas concentrations. Standalone ?networked data logging applications. The DL-series loggers connect to Vaisala's viewLinc software to provide historical&real-time data, remote alarming, and reporting in compliance with global regulations and standards. The data loggers can also be integrated to non-Vaisala systems with our OPC UA Server.
Features
Long-life battery and large onboard memory.
Single and multi-channel models with up to four input channels.
Easily set scaling and measurement units for recording.
Time-based digital recording in a range of sample intervals.
Traceable to SI units through national metrology institutes.
Key Benefits
Easy to set up and use
The DL4000 data loggers can be used with Vaisala continuous monitoring system software viewLinc for monitoring and analyzing environmental data. Vaisala's OPC Server software can also be used to integrate the DL4000 data loggers with non-Vaisala systems.
Onboard battery and autonomous memory
Data is recorded at the point of measurement making it immune to network and power interruptions. With typical battery life of ten years and large onboard memory, the DL4000 is a reliable solution for logging multiple parameters with a single device. Remote alarming ensures you know when thresholds are breached
Flexible connectivity options
To access the DL4000 data, connect directly via USB, or network via Ethernet, Wi-Fi, or use Vaisala's vNet interface for Power over Ethernet connectivity.