Dew Point DMPX Family (DMP5, DMP6, DMP7 and DMP8)
Featured Product from Vaisala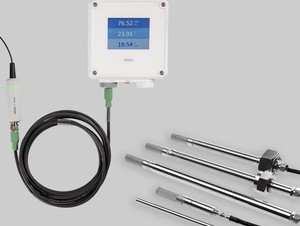 Vaisala's Smart Dew Point Probes - DMP5, DMP6, DMP7 and DMP8 - are part of Vaisala Indigo product family .
Vaisala Indigo family includes intelligent, interchangeable measurement probes, optional host devices and free Vaisala Insight PC Software. The probes enclose acknowledged sensor technologies.
Free datasheets:
DMP5 Dew Point and Temperature
DMP7 Dew Point and Temperature
DMP8 Dew Point and Temperature Probe for Pressurized Pipelines

Features and Benefits:
Plug-and-play probe connection for Vaisala Indigo compatible probes
Wireless interface for configuration and temporary use
Operating temperature: -40 ... +60 °C, with display -20 ...+60 °C
LCD color display (optional non-display version for analog model)
IP65 enclosure
24 V power supply input
Indigo 201 model: 3 analog outputs (mA or V)
Indigo 202 model: RS485 with Modbus RTU
2 configurable relays
Easy access to data. It's easy to view and evaluate data, also wirelessly.
For harsh environments: The enclosure with an IP65 classification is safe for harsh environments and resistant to dust and most chemicals. The smooth surface of the enclosure makes cleaning easy.
Easy installation: True plug-and-play attachments of probes to the display, which saves time and reduces downtime.