Process Refractometer PR-23-GP
Featured Product from Vaisala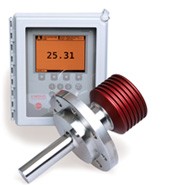 The PR-23-GP sensor is installed via a flange or clamp connection.
The measurement range covers 0-100 % by weight. The accuracy is typically ±0.1 % b.w. and the measurement is automatically temperature compensated. Low and high concentration alarms can be configured. Because of the digital sensing technology, even large amounts of suspended solids, bubbles or color changes do not affect the measurement or the accuracy.
Each sensor is provided with a calibration certificate comparing a set of standard liquids to the actual sensor output. The calibration and accuracy can be verified on-site with the certified Refractive Index liquids and K-Patents documented procedure.
Features
Universal calibration of each sensor: All sensors are freely interchangeable.
Full measurement range Refractive Index nD 1.3200 – 1.5300, which corresponds to 0-100 % by weight.
Dual connectivity: one transmitter can operate two sensors. A second sensor can be easily integrated later.
Completely digital system: particles and bubbles do not affect operation or accuracy.
CORE-optics: no drift, no re-calibration, no mechanical adjustments.
Ethernet connection and remote panel for data-logging and remote operation.
Process temperature range: -20°C – 150 °C (-4 °F – 300 °F)
Fast process temperature measurement by built-in Pt1000 and automatic temperature compensation.
Easy on-site instrument verification within users' own quality assurance system with standard Refractive Index liquids.
ATEX approved for Zones 0 and 1, area classification ATEX II 1G Ex ia IIC T4 (only Intrinsically safe PR-23-GP-IA with single sensor transmitter STR).
ATEX approved for Zone II, area classification EX II 3 G EEx nA II T4.
CSA certified for Class I, Div. 2, Groups A, B, C and D, T4.
FM approved for Class I, Div. 2, Groups A, B, C and D, T6.
cCSAus certified for Electrical Safety, Sensor: Class I, Pollution Deg. 3; Transmitter: Class I, Pollution Deg. 2; Installation Cat. II.