Vaisala Indigo | CO2 Probes | GMP250 series
Featured Product from Vaisala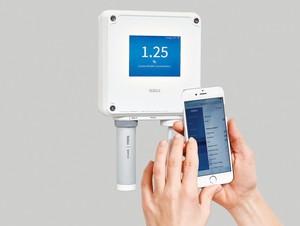 Vaisala's Smart CO2 Probes - GMP251 and GMP252 - are part of Vaisala's Indigo product family.
Vaisala Indigo family includes intelligent, interchangeable measurement probes, optional host devices and free Vaisala Insight PC Software. The probes enclose acknowledged sensor technologies.
GMP251
The Vaisala CARBOCAP® Carbon Dioxide Probe GMP251 is an intelligent, stand-alone, %-level probe for measuring CO2 in life science incubators, cold storage facilities, fruit and vegetable transportation, and in all demanding applications where stable and accurate percentage-level CO2 measurements are needed.
GMP252
The Vaisala CARBOCAP® Carbon Dioxide Probe GMP252 is an intelligent, stand-alone, ppm-level probe. It's intended for measuring CO2 in agriculture, refrigeration, greenhouses, demanding HVAC applications, and for plant growth chamber manufacturers. It is suitable for harsh and humid CO2 measurement environments where stable and accurate ppm-level CO2 measurements are needed.
Free datasheets:
Features and Benefits:
Plug-and-play probe connection for Vaisala Indigo compatible probes
Wireless interface for configuration and temporary use
Operating temperature: -40 ... +60 °C, with display -20 ...+60 °C
LCD color display (optional non-display version for analog model)
IP65 enclosure
24 V power supply input
Indigo 201 model: 3 analog outputs (mA or V)
Indigo 202 model: RS485 with Modbus RTU
2 configurable relays
Easy access to data. It's easy to view and evaluate data, also wirelessly.
For harsh environments: The enclosure with an IP65 classification is safe for harsh environments and resistant to dust and most chemicals. The smooth surface of the enclosure makes cleaning easy.
Easy installation: True plug-and-play attachments of probes to the display, which saves time and reduces downtime.