viewLinc, Continuous Monitoring System
Featured Product from Vaisala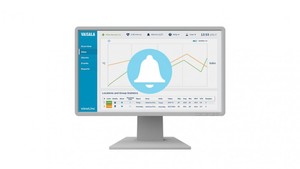 viewLinc
We offer an unbeatable combination of technology, experience and services. With Vaisala's continuous monitoring solution you can focus on operations knowing your environments are measured accurately and monitored reliably. Our sensors and transmitters measure almost any parameter. Vaisala also offers in-line measurement of liquid concentrations for pharmaceutical process instrumentation and control.
Instruments for measuring temperature, humidity, carbon dioxide, dewpoint, differential pressure and other critical parameters.
Continuous, secure and GxP-compliant monitoring for sensitive environments like refrigerators, incubators, isolators, laboratories, cleanrooms and warehouses.
Services and support that ensure your systems meet or exceed the most stringent compliance requirements.
"Of all the monitoring systems we looked at, the viewLinc monitoring system provided the best value ... hands down!"
- Dorraine Reynolds, Pharmacy Director US-based National Research Hospital
The Vaisala Continuous Monitoring System provides:
viewLinc software for real-time monitoring and alarming of temperature, humidity and other parameters
Alarms are sent via onscreen alert, email, SMS, alarm towers, relay to alarm service, and voice calls
Automated historical and alarm reports are saved to viewLinc's secure server
Data loggers connect easily -- wired, PoE, Wi-Fi, or VaiNet long-range wireless
Scalable from one to thousands of sensing devices
Reliable, redundant recording runs parallel to control systems for simplified validation
Optional on-site calibration services ensure accurate temperature and humidity records
Ideal for monitoring temperature, humidity and more in:
GxP Environments & Life Science Applications
Calibration Laboratories
Semiconductor Manufacturing
Cleanrooms
Data Centers & Equipment Rooms
Museums & Archives
Food & Beverage Manufacturing, Distribution
Chart Recorder Replacement
Learn more about viewLinc monitoring, alarming and reporting software.
Review our repository of articles, eBooks, white papers, and application notes on environmental management of GxP and regulated applications.
Customer Reviews
"After years of working with the system, generating the kind of reports that make auditors happy, we've found Vaisala's viewLinc monitoring system to be bullet-proof."
Timothy Phelps, Facilities Engineering Manager - Specialty Distribution
"[The] system is easily scalable without extra costs, increases our efficiency with its remote reading abilities and ease of use, and the measurements are very accurate."
- Mats Andersson, Project Manager, AstraZeneca