Secondary Operations- Gun Drilling
Service Detail from Vallorbs Jewel Company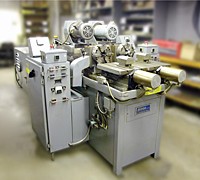 Vallorbs Jewel Co has experienced technicians and the technical capability to perform numerous secondary operations such as, milling, broaching, gun drilling, thread rolling, as well as a variety of surface finishing for screw-machined parts. Small components are finished to super fine or rough textures through high quality burnishing, lapping, and surface grinding.

Our gundrilling capabilities are holes from 0.078" to 1.250" diameter and up to an 11" uninterrupted depth with clamping capabilities on round, square, or hexagonal bar stock. Total part depth of 22".

Offering micro finishes down to 4 µ inches (0.10 µ M finish) makes our lapping services distinctive for small intricate parts. We use a Sunnen MBB-1650 Horizontal Honing Machine to provide internal honing, with light abrasives such as silicon carbide, aluminum oxide, cubic boron nitride (CBN), as well as diamond hone stones.
Lapping/Burnishing

Our burnishing capabilities are diameters from 0.025" up to 0.500" with burnishing lengths up to 1.000" and finishes down to 4 µ inches finish (0.10 µ M finish)


Typical Parts

Gear Blanks
Washers
Bolts
Miniature and Shaft Bushings
Microsurgery and Biomedical
Electromechanical Devices
Pins
End Plugs for Fuel Rods
Many Special and Critical Components for The Nuclear and Medical Industries


Other Services

In-house Tooling
Multi-spindle - 16 mm
State-of -the-art CNC Auto


Materials

Stainless Steel - 300 & 400 Series
Titanium
Inconel
Zircaloy
Brass
Aluminum
Other exotics


Facilities

Complete Secondary Operations (see below)
In-house Tooling
Multi-spindle - 16 mm
State-of -the-art CNC Auto


Production Run Volumes

Prototype to Long Production Runs

Equipment List

1 Cincinnati Milling Machine
1 Eldorado Gun Driller
1 Ernst Grob Thread Roller
1 Izpe Thread Roller
1 Schaffner Milling Machine
1 Schaublin 102 Lathes/Omni turn CNC attachment
1 Sunnen MBB-1650 Honing Machine
1 Tesker Thread Roller Model 200
1 Wirth & Gruffat Type C128 Transfer Machine
12 Kummer K-20 Dual Spindle Chucking Lathes
2 Landis Centerless Grinders
3 Ultrasonic Parts Cleaners
4 Schaublin 102 Lathes

Industries

Nuclear
Agricultural
Medical
Aircraft
Electronics
Instruments
Others


Certifications

ANSI/ASQ Z1.4-2008
10CFR50 Nuclear Industry Compliant


Design For Manufacturing (DFM)

Our design team will review your part prints and designs and optimize for manufacturability and cost. Let us make suggestions to improve the turnaround, quality, and value of your precision machined parts.

---