Agilent 16058A Test Fixture
Featured Product from ValueTronics International, Inc.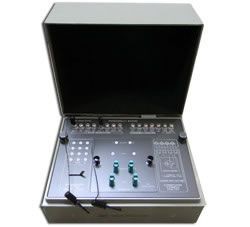 Agilent 16058A Features:
For use with the Agilent HP 4145A or 4145B Analyzer
Socket boards included are: transistor, diodes, 18-pin DIP, 28-pin DIP, 8, 10, & 12 pin Package, Teflon blank cover
The Agilent 16058A Test Fixture is designed for use with the 4145A Semiconductor Parameter Analyzer. The 16058A holds the device to be tested with the 4145A, and provides all necessary connections to the test input/output terminals of the 4145A. For stable and accurate measurements at extremely low current levels, the 16058A is equipped with an electrostatic light-shielding cover. To facilitate testing various types of devices, eight interchangeable socket boards and three types of special plug leads are furnished with the 16058A.