Keysight MSOX3054T 500 MHz, 4+16 Channel MSO
Featured Product from ValueTronics International, Inc.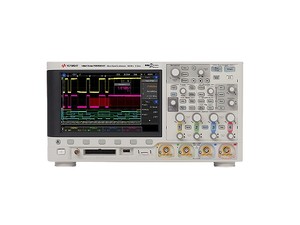 Features:
500 MHz Mixed Signal
4 Analog + 16 Digital Channels
Easily view and analyze your signals with on the large 8.5-inch capacitive touch screen
Isolate signals in seconds with exclusive Zone touch triggering
See more signal detail with the 1,000,000 wfms/s update rate
Capture more data with up to 4 Mpts memory
Display Size: 8.5-inch capacitive touch
ADC Bits: 8 bits
3-digit DVM
20 MHz AWG
8-digit Counter
Special Triggers: Touch Zone Trigger
The user interface allows you to use the alphanumeric pad for quick annotation, place waveforms or cursors in exact positions and drag docking panels across the screen to see more measurement information.
The MSOX3054T offers three ways to access key menus and features: touch GUI for those that prefer tablet or smart phone touch interfaces, front panel buttons and knobs for the traditional oscilloscope users, and Keysight Insight pull down menu for users who prefer Windows-like operations. The MSOX3054T also offers a "touch off" button as well as USB mouse and keyboard support.
Touch interface simplifies documentation
The availability of up to 10 annotations on screen makes it easy to highlight key items on screen shots. Streamline documentation with the ability to input information via a pop-up soft keyboard on the touch screen or a USB keyboard. A sidebar displays additional information without covering the waveform graticule, and allows you to dock and scroll through multiple measurement values. Touch gestures (like flicking) make navigating lists or moving between segment waveforms easy.
In addition to the benefits of touch, built-in USB host and USB device ports make PC connectivity easy. The BV0004B oscilloscope control and automation application within BenchVue lets you control and visualize the 3000T X-Series and multiple measurements simultaneously. It lets you build automated test sequences just as easily as you can with the front panel. Save time with the ability to export measurement data to Excel, Word and MATLAB in three clicks. Monitor and control your 3000T X-Series with a mobile device from anywhere. Simplify your testing with BenchVue software.
Redefine your remote Web control oscilloscope experience
The 3000T X-Series offers traditional control via a PC Web browser, but also supports remote control through popular tablet devices when using the optional LAN/VGA interface.
Touch:
8.5-inch capacitive touch screen
Designed for touch interface
Discover:
Industry's fastest uncompromised waveform update rate
Exclusive zone touch trigger
Solve:
Wide range of serial decodes
7-in-1 instrument integration
Time/frequency domain correlation
Integrated frequency measurements: Standard 8-digit counter and totalizer
Traditional oscilloscope counter measurements offer only five or six digits of resolution, which may not be enough for the most critical frequency measurements are being made.
With the 3000T X-Series' standard 8-digit counter, you can see your measurements with the precision you would normally expect only from a standalone counter. Because the integrated counter measures frequencies up to a wide bandwidth of 1.0 GHz, you can use it for many high-frequency applications as well.
The counter's totalizer feature adds another valuable capability to the oscilloscope. It can count the number of events (totalize), and it also can monitor the number of trigger-condition-qualified events. The trigger-qualified events totalizer does not require an actual trigger to occur. It only requires a trigger-satisfying event to take place. In other words, the totalizer can monitor events faster than the trigger rate of a scope, as fast as 25 million events per second (a function of the oscilloscope's holdoff time, which has the minimum of 40 ns).