New BK Precision 895 1 MHz LCR Meter
Featured Product from ValueTronics International, Inc.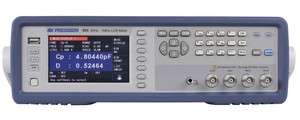 Features:
Adjustable measurement speed for fast readout or better accuracy
201-point programmable list sweep function providing ability to sweep frequency, AC and DC bias voltage/current levels
Auto-level control to maintain the measurement signal applied to the DUT at a constant level
Test signal voltage and current monitoring
BIN comparator function to sort components in up to 10 bin locations
Handler interface for easy integration with a component handler
1 m and 2 m cable compensation
4-terminal fixture and Kelvin clip test leads included
Transformer test function with optional transformer test fixture TL89T1
Versatile trigger functionality (internal, external, bus and manual)
Standard USB, LAN, and GPIB (895 only) interface for remote control using SCPI commands
Standard accessories: AC power cord, 4-wire Kelvin clip test lead, 4-terminal test fixture, shorting bar, certificate of calibration, test report
Three-Year Warranty
The BK Precision 895 is a high accuracy LCR meter capable of measuring inductance, capacitance, and resistance of components and materials at DC or from 20 Hz to 1 MHz. The LCR meter provides flexible AC and DC test signal configuration. AC test signal voltage is variable from 5 mVrms to 2 Vrms, the AC current is adjustable up to 66.7 mArms, depending on the AC impedance selected, and a DC bias signal can be added.
The vivid 4.3-inch TFT LCD offers a clear view of all measured and setting values along with BIN sorting comparator results and a handy Zoom feature that enlarges the measured values to full screen. With a basic accuracy of 0.05%, auto level control (ALC), open/short/load correction and cable length compensation, this meter is a perfect tool for R&D, manufacturing and quality control applications.