Preen ADG-S-1600-18 30kW, 1.6kV, DC Power Supply
Featured Product from ValueTronics International, Inc.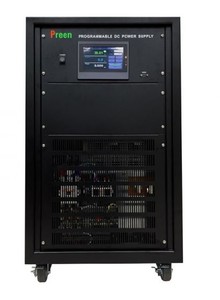 Preen ADG-S-1600-18 30kW, 1.6kV, DC Power Supply Features:
Wide output voltage range: with maximum voltage up to 1600V, ideal for renewable energy, smart grid, and Electric Vehicle (EV) related applications
High Efficiency and Power Factor: up to 90% efficiency and power factor
High Output Power: up to 30kW in one chassis with high power density
Fast Transient Response Time: <4~12ms
CV and CC Modes
4.7" Touch Screen Display for Easy Operation
Touch Screen Lock Function
Specifications:
Output Power: 30kW
Output Voltage: 1600V
Output Current: 18A
Input Voltage: 3 Phase, 3 Wire + G; 380 VAC / 400 VAC / 415 VAC / 440 VAC / 480 VAC ±10%, 3Φ
Input Frequency: 47 Hz - 63 Hz
Input Power Factor: > 0.9 at maximum power
Efficiency: ≥ 87%~90% at max. power
Voltage Regulation: < 0.1%~0.3
Voltage & Current Measurement Accuracy: <0.5% FS
Voltage & Current Resolution: 0.1V / 0.1A
Voltage Ripple (rms): ≤ 0.08%
Voltage Noise (p-p): ≤ 0.4%
Voltage Slew Rate: ≤ 280ms
Operating Temperature: 0°~40°
Storage Temperature: -20°~70°
Isolation: Input to Enclosure 2000Vac
Dimensions: 30~50kW: 1050x600x800/41.4x23.7x31.5
Weight might be different due to option features or different input voltage, please contact us for details
Applications:
Component Testing
Electric Vehicle
IT Industry
EMC Testing
Renewable Energy/EV
Battery Testing
Aerospace & Defense
Research and Compliance Labs
Server Industry
The Preen ADG-S-1600-18 is an Economic DC Power Supply, Non-Programmable, with Front control panel. The DC Power Supply includes high power density and high output power, offering great response time, high accuracy and many output voltage and current combinations. Designed for the increasing demand of high power DC, ADG is ideal for testing EV's motor/compressor, server power supply, fuse/circuit breaker/contactor, and PV inverter or can be used as a facility power or EMC chamber power.
User-friendly HMI
ADG series has an intuitive touch screen HMI for easy operation and data display. Users also can easily set up voltage or current variation simulations through the built-in programmable functions in the touch screen.
High Voltage and High Current Models
Preen's ADG series are one of the few models in the industry that can deliver output voltage up to 2000V and output current up to 2500A, which makes ADG series an ideal DC source for all kinds of component testing.
Fast Transient Response
When output current demand changes rapidly in a large range, the output voltage will decrease or increase significantly in a short period of time. This type of current change sometimes affects the performance of EUT or test results. Having transient response time smaller than 4~12ms, ADG series can fast regulate output voltage to set voltage and minimize the effects to EUT.
A Varity of Applications
ADG series has many output voltage ranges suitable for different market applications. Models over 640V output voltage are applicable for renewable energy, EV, and lithium battery industries. When it comes to circuit breakers, contactors or fuses that require high voltage or current, models with 2000A or 1600V can fulfill the power demands of this type of component testing. The 400V or 320V models can be applied to server related applications due to the increased needs for high voltage DC in data centers.
Event Log Function
ADG series' touch screen has the built-in event log function that allows users to view error history. This helps user to keep track on the power supply's operation and better analyze the test results.
Technically Advanced Performance
ADG series has the industry leading performance on ripple, response time, and voltage regulation, which make it an ideal DC power supply for all kinds of testing.