Sorensen SGI80-313C DC Power Supply
Featured Product from ValueTronics International, Inc.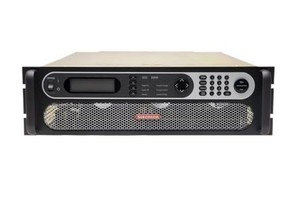 Additional Features:
Output Voltage: 80 V
Output Current: 313 A
Output Power: 25 kW
Frequency: 47 – 63Hz
Protection: ½ cycle ride-though on all three phases, 3 cycle ride-through on single phase; missing phase shutdown
Input
Nominal Voltage 3 phase, 3 wire + ground
208/220 VAC (operating range 187 - 242 VAC)
Power Factor:
>0.9 typical at 208/220 VAC input
>0.78 typical at 380/400 VAC input
>0.69 typical at 440/480 VAC input
Environmental
Operating Temperature: 0 to 50º C
Storage Temperature: -25º C to 65º C
Humidity Range: Relative humidity up to 95% non-condensing, 0º C – 50º C
Altitude: Operating full power available up to 5,000 ft. (~1,500 m), derate 10% of full power for every 1,000 feet higher; non-operating to 40,000 ft. (~12,000 m)
Cooling: Front and side air inlet, rear exhaust. Temperature controlled, variable speed fans. Units may be stacked without spacing
Regulatory: Certified to UL/CSA 61010 and IEC/EN 61010-1, CE Compliant, Semi-F47 Compliant
Front Panel Dust Filter 30 PPI (Pores Per Inch) - must ensure adequate airlow and / or derate max. temperature. 3U unit only
The Sorensen SGI80-313C represents the next generation of high power programmable DC power supplies. Designed for exceptional load transient response, low noise and the highest power density in the industry. The industry leading power density is enhanced by a stylish front air intake allowing supplies to be stacked without any required clearance between units.
At the heart of the SG series is a 5 kW power module. Depending on the output voltage, one to six modules can be configured in a single chassis to deliver 5 kW to 30 kW of power. Combinations of these chassis can then be easily paralleled to achieve power levels up to 150 kW. Paralleled units operate like one single supply providing total system current. Available in two control versions, the SGA has basic analog controls, while the SGI provides intelligent control features
SGI: Advanced Intelligent Control (Sorensen General purpose Intelligent)
The SGI combines onboard intelligent controls with the outstanding power electronics common to all SG family supplies. These controls enable sophisticated sequencing, constant power mode and save/recall of instrument settings. Looping of sequences makes the SGI idea for repetitive testing. An impressive vacuum fluorescent graphical display in eight languages, context sensitive "soft" keys and front panel keyboard simplify programming of the SGI.
The image is a representation of selection. See specifications for product details.