Triton® Screw Centrifugal Pumps
Featured Product from Vaughan Co., Inc.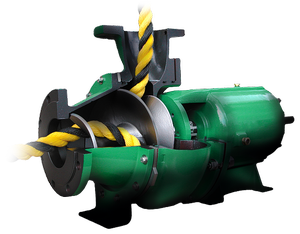 Versatile, Efficient, Reliable
Vaughan Company, with over 50 years of solids handling experience, introduces the Triton® screw centrifugal pumps, combining the benefits of Vaughan's superior pump designs with the advantages of high efficient, non-clogging performance. The Triton screw centrifugal pump's open channel impeller is ideal for handling thick sludges, large or stringy solids, shear sensitive fluids and delicate or highly abrasive materials.
Features include:
Steep performance curves
Flushless mechanical seal design
Available in horizontal or vertical pedestal configurations (Click here to view specs)
Heavy-duty power frames
Non-overloading power characteristics
Optional standard power frame with water flushed mechanical seal or packing
Download Triton brochure.
Contact us today to help diagram your specific project needs.