Vaughan Cantilever Pumps
Featured Product from Vaughan Co., Inc.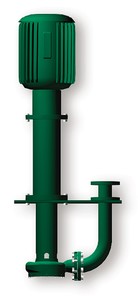 The Vaughan Cantilever Pump is the toughest design available for waste sumps with high solids, abrasives or corrosives content. Applications include fish waste, pulp and paper recycling, mining, storm drains and mill scale.
Eliminates submerged seals and bearings
Best for severe abrasive service
A 4" shaft combined with heavy duty ball and roller bearings above the baseplate allow up to 4' of pump length without the need for submerged bearings or seals.