Vaughan E-Series Horizontal Dry Well Chopper Pump
Featured Product from Vaughan Co., Inc.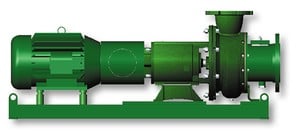 The Vaughan E-Series Horizontal End-Suction Chopper Pump provides trouble free operation in the most severe pumping environments. Retrofits are made easy with centerline connections, and choice of packing or mechanical seal. The combination of chopping and pumping eliminates the need for a comminutor.
Includes oil lubricated double row ball bearings, choice of packing or mechanical seal, 150 lb. centerline inlet and outlet flanges, and elastomeric coupling with piloted C-flange motor mount. Vaughan's E-Series back pull-out design allows for external adjustment of all cutting clearances.
Various sealing systems
Direct or belt drive
Adjustable back pull-out design