Vaughan Products Used in Fog & Organics Processing
Featured Product from Vaughan Co., Inc.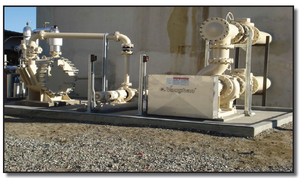 With the increase in energy cost, water reclamation facilities are looking to household organics and FOG (Fats, Oils, & Grease) to better increase the wastewater treatment plant efficiency. FOG and household organics have a much higher energy content than municipal waste, resulting in higher methane gas production. This increased gas production results in increased power production via co-generation.
The Vaughan Chopper Pump uses minimal horse power to chop all incoming solids, breaking them down in sizse to easily pass through the heat exchanger eliminating any plugging. Vaughan Chopper Pumps are used to transfer the incoming FOG from hauling trucks to the blend tank. The blend tank is a small tank used for blending FOG and organic waste. Vaughan's Rotamix System mixes the FOG and organic waste to a homogenous slurry before being pumped to the anaerobic digester. This application uses a Vaughan pump and multiple nozzles mounted inside the blend tank.
Contact Vaughan Co. Inc. for more information regarding FOG and household organics processing.