Battery Testing for Mission Critical Applications
Featured Product from Venable Instruments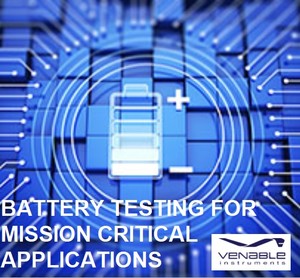 For mission-critical applications, researchers and manufacturers need to know without a doubt that batteries are charged and will keep a charge. Our Energy Storage Testing instrument (ESTi™), a commercial off-the shelf, PC-based modular battery test solution, offers highly accurate measurements at a fraction of the cost of a custom test system.
Key Features
Intuitive User Interface Intuitive ESTiView software that provides a flexible, drag-and-drop graphical user interface (GUI) to easily create and manage battery test programs. Learn More About ESTiView
The Only Instrument on the Market with Wide Thermal Calibration Support Instruments are thermally calibrated for operation in an ambient temperature range of 0°C to 50°C, making them ideal for use in harsh environments
Scalability Test multiple cells simultaneously in a multi-node environment, easily upgrade to increase testing capacity as your application needs evolve
Advanced Capabilities in One Machine ESTi combines capabilities of several custom batttery test systems into a single instrument delivering the lowest cost-per-watt testing capacity on the market.
Access in depth details about our Energy Storage Test Instrument (ESTi) via the data sheet pdf