Current Mode Control White Paper
Featured Product from Venable Instruments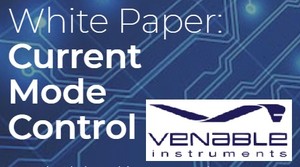 Current mode control is one of the significant topologies in power electronics. This white paper details the principle of current mode control, how it is supposed to work, what topologies come closest to truly representing the concept, and how to test a current mode converter to see if it is actually working as advertised.
Why Current Mode Control?

Is Current Mode Control Perfect?
Control to Output Transfer Function
The Advantages to Fixed Off Time
Disturbances Die Out In One Cycle
Critical Current is Fixed
Effects of Right-Half-Plane Zero Are Minimized
Constant Off Time Is Easy To Implement
Download this white paper to learn more about current mode control in power electronics.