Prevent oscillation in distributed power systems
Featured Product from Venable Instruments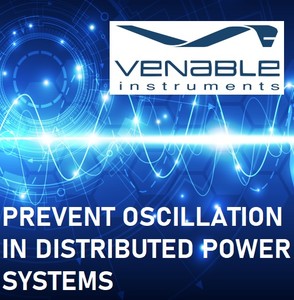 Distributed power systems can oscillate, especially when driving one power supply with another power supply. The input and output impedances of a power supply can predict this oscillation. Before looking at the specific details of the oscillation criteria we will review the basics of impedance.

Most engineers understand impedance from a dc standpoint. The assumptions for the dc impedance model (resistance) are that voltage and current never change. Impedance, by contrast, can vary with
frequency. It only assumes that the circuit is linear; that is, if you apply a voltage, see the current respond, and then apply a voltage waveform twice as big, the current waveform will be the same shape and twice as big.... often a good assumption.
Download this white paper to learn what causes distributed power systems to oscillate and how you can prevent oscillation.
The White Paper will review:
Basics of Impedance
Voltage and Current Waveforms
Polar Impedance
Impedance Matching
Oscillation Criteria
How to Avoid Oscillation
Visit Venable Instruments' site to access the helpful white paper