Custom Cables and Cable Harnesses
Featured Product from Venture Mfg. Co.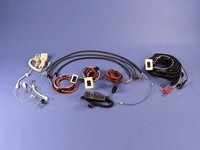 Why Choose Venture for Cable and Wire Harness?
At venture we understand our customers' business expectations and requirements and hence, offer products based on their particular industrial needs and relevance. Our customers rely on our brand when it comes to buying high-quality collection of cable & harness assembly due to the following reasons:
We have gained tremendous amount of industrial experience and expertise in providing flawless cable and wire harness solutions that would fulfill our customers' requirements in terms of quality, efficiency, safety and durability.
We employ highly dexterous technicians and engineers who are adept in their job and in providing unmatched quality and competency on all data cable products and standard networking wires.
Our custom cables & wire harness sets are tried and tested against all the safety parameters and our products are ISO certified, UL tested an fully ROHS compliant.