Heavy Duty Linear Actuators
Featured Product from Venture Mfg. Co.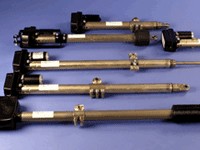 Enhance the Accuracy of Your Application with Heavy Duty Linear Actuators
Industrial automation and motion control are in high demand. Industries such as military, agriculture, construction, material handling, mining, and construction, require fast, precise, and durable linear motion products. Venture Mfg. Co. understands the continually growing automation requirements of industries. We provide heavy duty linear actuators to support industrial applications.
Heavy Duty Linear Actuator Features
Venture's heavy duty actuators are designed to provide solutions for applications comprising extremely harsh conditions. They have the capability to take on high application loads, speeds, and continuous operations. The actuators are designed with features that provide a variety of benefits:
Ball screw actuator design.
They provide efficiency in terms of position accuracy.
Versatile as they can be used with electric as well as stepper motors.
Electric brake eliminates any possibility of back-drive.
Resistance to corrosion, vibrations, and extreme temperatures.
Throughout its service life, the actuator does not require regular maintenance.
Has the capability to perform continuous duty cycles.
They can be used in environments where the actuator will be exposed to contaminants such as slush, mud, snow, water, sand, etc.
Digital position feedback enhances the accuracy and successful use of the product.
Heavy Duty Actuator Specifications
Venture provides its clients with custom heavy duty linear actuators to meet particular application requirements. Each material and specification has been carefully decided so that it can meet the demands of any application:
Primary Manufacturing Materials: Type 316 stainless steel and military plastic
Actuator Type: Ball Screw
Gearbox Type: DC Motor
Gear Ratio: Gear Drive: From 18: 1 to 58: 1
Rated Loads:

Static: 7,000 lbs.
Dynamic: 4,000 lbs.

End Mounts: Clevis (we can also provide flat or swivel end mounts.)
Application Benefits
The following points showcase the benefits that customers and applications can receive by choosing our linear actuators:
Contamination Free: The actuator is enclosed in a stainless steel casing. This ensures contamination prevention from industrial and environmental elements.
Efficient Motion: The in-line

DC motor

allows for smooth linear motion. Sudden thrusts at high speeds can also be achieved. We can also provide the actuators with AC motors.
Installation Versatility: Venture actuators can be installed either as a stand-alone system, or as a part of a larger machine.
Good Replacement: Our linear actuators can serve as optimum replacements for other motion products such as cams, linkages, levers, and hydraulic and pneumatic actuators.
Supportive Equipment: The actuators are provided with adjustable controls and limit switches. The linear tracks are made from stainless steel materials, ensuring the efficacy of the actuator during operation.
Venture. Mfg. Co.'s durable heavy duty linear actuators provide quality solutions to support applications in medical, manufacturing, automotive, satellite, and automation industries.