High Speed Linear Actuators for Precise Operation
Featured Product from Venture Mfg. Co.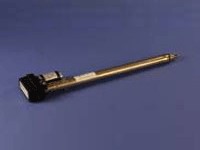 High Speed Linear Actuators for Precise Operation Requirements
Speed and precision are two primary requirements for applications involving linear actuators. Industries such as conveyance, automation and storage, and food and beverage processing, all require motion products that can support the performance of their systems. Venture Mfg. Co. provides the solutions with our high speed linear actuators.
Beneficial Linear Actuator Features
These are types of electric actuators specifically designed for applications that require continuous operation and performance. At Venture, we design our actuators to provide precise amounts of thrust and high speed. Our actuators are manufactured in compact designs, thus providing maximum positive results. The actuators are designed with features that can support the user as well as the application:
Sleek and compact design
Potentiometer option available
Excellent load bearing capacity
Built in limit switches, not movable
High acceleration capabilities
Proficiency in terms of position control
Venture Actuator Specifications
Our high speed linear actuators are manufactured to provide reliability and durability for supporting applications. They are designed to provide trouble-free operations in demanding conditions. We offer our actuators in the following specifications.
Primary Manufacturing Materials: zinc or aluminum housing
Stroke Size Range: From 1 to 24?
Force in Pounds Range: From 11 to 33 lbs.
Components: Non-movable built in limit switches
Mounting Brackets: Two
Voltage: 120V AC
Application Benefits
The following points showcase the benefits that customers and applications can receive by choosing our linear actuator products:
The high speed actuators utilize energy only when required.
Maintenance and parts replacement are minimized.
As these are electric actuators, lubrication is eliminated.
They provide a quiet operation as compared to pneumatic actuators.
They are more cost-effective than pneumatic or hydraulic actuators.
Electric actuators provide clean and energy-efficient power transmission.
Customization is easy as they can be manufactured with custom controls.
Venture Mfg. Co. offers high speed linear actuators to meet the needs of simple as well as complex control systems. They are the ideal products for application sliding, and column lifting. They can be used to simplify your equipment's design, while reducing energy costs.