Terry Wireman Presents at the EAM and CMMS Summit!
Product Announcement from Vesta Partners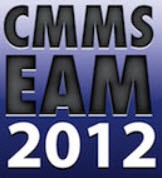 According to research, only 20% of Computerized Maintenance Management Systems (CMMS) or Enterprise Asset Management (EAM) implementation produces the results desired by organizations using CMMS/EAM. This focused-learning event, the CMMS and EAM Summit, is designed for those seeking to reimplement an existing CMMS/EAM for more effective maintenance management along with those who plan to implement a new CMMS/EAM.
Vesta's Terry Wireman will be presenting two different sessions across the span of this event. The first is a keynote presentation called "Standardized Business Processes - The Key to CMMS/ EAM System Utilization," which will be held on April 18th at 1:30 p.m. The second, is Session 3, a half day session on Thursday, April 19th at 8:30 a.m. called, "Successfully Using CMMS/EAM to Manage Maintenance Short Course".
Join Terry and Vesta for this educational event!
---