Mechanicom Machine Surveillance System
Product Announcement from Vibrant Technology, Inc.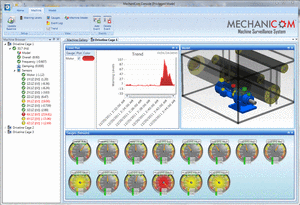 MechaniCom uses the acquisition and post-processing capabilities of ME'scopeVES, with an easy-to-use graphical interface for displaying operating data on a 3-D model of each machine. In addition to vibration, other monitored parameters such as temperature, pressure, strain, voltage, current, and flow rate are displayed directly on the 3-D machine model. The features of MechaniCom include:
Baseline operating data is kept for each monitored machine, and compared with currentoperating data in real time, 24/7.
Color-coded Alert, Alarm, and Abort levels can be set on each monitored channel, and are uniquely identified on the 3-D machine model.
Red-light / green-light graphics on the 3-D model indicate when a warning level has been exceeded, thus providing a quick visual check of all monitored equipment.
Email notification can be provided to maintenance personnel when a machine fault condition is detected.
Latching capability allows the gauge of a monitored channel to be locked until the machine fault has been remediated.
All operating shapes are stored in an archival database for graphical trending and detailed post-analysis of a machine fault.
When a fault condition is encountered, sampled time or frequency data can also be archived and used for diagnosis of the fault.
---