1710 Ink Jet Printer
Product Announcement from Videojet Technologies, Inc.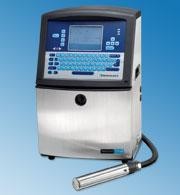 NEW VIDEOJET® 1710 INK JET PRINTER COMBINES HIGH-CONTRAST CODES WITH LOW MAINTENANCE
For applications that require easily readable variable data codes on dark or difficult to mark materials, Videojet Technologies Inc. has designed the new Videojet® 1710 small character continuous ink jet printer.
The printer uses high-contrast, pigmented inks to create bright, clean codes on surfaces for which dye-based inks are not effective, such as colored glass, rubber tubing, plastic cabling and dark paperboard.
The Videojet 1710 printer can apply up to five lines of high-resolution print at speeds up to 888 feet per minute (271 m/min.). It is capable of printing a variety of fonts in multiple languages, as well as linear bar codes, 2D DataMatrix codes, custom logos and graphics.
"Videojet designed the 1710 printer to have the benefits of the best-selling Videojet 1000 Line of ink jet printers, but re-engineered the inside for the unique properties of pigmented inks," says Scott Benigni, Videojet continuous ink jet product manager. "The heart of the new unit is the innovative "Core" which was designed specifically for pigmented inks. Patented technology ensures that pigments are continuously kept in suspension, preventing the clogging that is often associated with pigmented printers. The result is an industry-leading 4,000-hour core life, delivering the longest and most predictable time period before preventive maintenance for pigmented ink jet printers.
---