CLARICOM CODING MANAGEMENT SOFTWARE
Product Announcement from Videojet Technologies, Inc.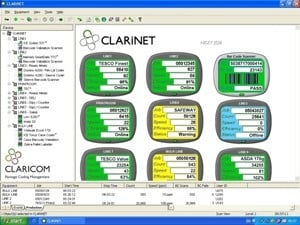 The Claricom suite of Package Coding Management (PCM) software from Videojet Technologies Inc. helps customers avoid coding errors that lead to increased costs, such as retailer fines and packaging waste due to the need to recode. Claricom PCM software is compatible with small and large character ink jet printers and thermal transfer overprinters, and is best-suited for markets such as perishable, short-shelf-life food; private label food; beverage; and industrial parts marking.
Claricom CLARiSOFT™ PC-based message management software has features like automatic date rounding and date calculations that minimize the possibility of a human data entry error, improving product traceability and reducing the potential of a product recall due to incorrect coding. When used in conjunction with CLARiSOFT, the Claricom CLARiNET™ networking software provides a centralized means for printer setup, control and feedback.
The ability to prevent coding errors due to incorrect message setup is an increasingly important purchasing consideration for both food and industrial manufacturers. Retail and legislative regulations demand accuracy and product traceability. Deploying Claricom PCM software can help protect brand equity through accurate codes, while at the same time facilitating a networked solution to better manage and control a plant's variable data printers.
CLARiSOFT has been the reliable software solution for the Videojet DataFlex® Plus thermal transfer overprinter and the Videojet® 2330 large character ink jet printer since their respective launches. The Claricom suite of software also supports the Videojet 1510 small character ink jet printer, the Videojet EXCEL® series of ink jet printers, including the Videojet EXCEL DN, and the Videojet P3400 label printer applicator. The software can be used for off-line message creation, allowing for centralized management of messaging such as bar codes, lot codes, expiration dates and other variable data. CLARiSOFT can be configured so data can be human-entered, fixed or computer-generated as appropriate to minimize the amount of user input and reduce potential for data entry errors.
In addition to facilitating setup, control and feedback from variable data printers, CLARiNET software can be used to log data regarding a printer's production and efficiency, along with validation of pre-printed bar codes. The software can operate as a self-contained network or be integrated within a facility's data communications network, Supervisory Control And Data Acquisition (SCADA) system or Enterprise Resource Planning (ERP) system to create an enterprise-wide solution.
---