Videojet 2120 Large Character Ink Jet Printer
Product Announcement from Videojet Technologies, Inc.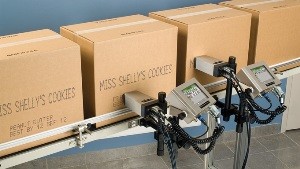 For companies that print large, variable data codes on both porous or nonporous substrates, the Videojet® 2120 large character ink jet printer from Videojet Technologies Inc. can apply characters on everything from cardboard and paper to plastic and foil. An automated setup wizard makes printer startup easy and fast, and pre-programmed templates help reduce coding errors, maximizing productivity.
Coding flexibility
Multiple printhead and ink options provide the flexibility to configure the industrial ink jet printer for different products and packages, regardless of the substrate. The 700 series printhead and inks are designed for printing characters up to 50 millimeters high on porous materials, such as those used in paper and cardboard packaging. The 800 series printhead and inks work on nonporous surfaces, such as shrink-wrap and a wide range of plastics, and print characters up to 92 millimeters high. To provide additional flexibility, the Videojet 2120 16-valve printheads can print single- or twin-line alphanumeric codes.
Message management templates reduce coding errors
The Videojet 2120 comes pre-programmed with a range of common jobs ready for use. These can be customized easily to meet companies' specific coding needs. Advanced message management templates reduce operator errors by limiting case coding choices to predefined values.
"Printing an incorrect code can have costly or time-consuming results for a company, especially if incorrectly coded products are placed into distribution." says Scott Prochaska, Videojet's business unit manager for secondary packaging. "Products with an incorrect code may have to be removed from store shelves and recoded, leading to extra time and expense. With the Videojet 2120, message management solutions provide extra security to greatly reduce the opportunities for coding errors."
Easy setup and operation
The Videojet 2120 comes with a setup wizard that guides the installation. Printer setup information and messages can easily be cloned to other printers using standard USB drives. A Remote Database Mode enables an operator to download messages from a centralized database or ERP system.
---