Videojet 4320 Ink Jet Addressing & Imaging System
Product Announcement from Videojet Technologies, Inc.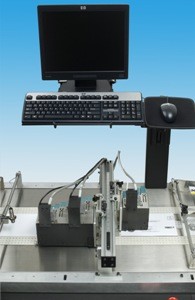 Flexible, scalable and multi-purpose
The Videojet 4320 ink jet addressing and imaging system is flexible and scalable choice for mailing houses or commercial printers. It can be used to produce high quality mailings or to over print variable data on any other kind of materials. With adjustable print resolution of 150, 200, 300 or 600 dpi and expandable printhead configurations from 2 to 8 inches, in 2 or 4 inch increments, the Videojet 4320 can print promotional messages, coupons, graphics and spot color, as well as basic eight-line addresses. The print configuration of the Videojet 4320 can be changed or expanded at any time to run all kind of jobs.
Optimum print quality and running cost
By adjusting the print resolution it is possible to optimize the amount of ink used to the bear minimum required for each job. Additionally, a unique bulk ink delivery system can reduce printing cost by more than 50 percent compared with similar printers. The high speed printing makes the system very productive and efficient up to 30 000 pieces per hour for standard envelops for example.
Total quality of jobs guarantied
The user interface software of the Videojet 4320 has controlled access by passwords and by level. As a result, only authorized people can change job settings. The Videojet 4320 feature full embedded electronic control of the printing process to avoid any mismatch of data printed by the different HP heads composing the different printheads. These two features together guaranty total quality of jobs whatever their size is and during all the manufacturing process.
---